It had been three years since Expo West, the largest trade show in the natural, organic, and healthy products industry, opened its doors to attendees in sunny Anaheim, California. I was there in 2019, along with 85,000 of my closest friends. Relationships were being created, deals were being made, and samples were being enjoyed by all in attendance. We had no idea what was on the horizon. So, when the decision was made for me to attend the first Expo West in three years, a mixture of emotions filled me. "What was it going to be like?" "Do I remember how to talk to people face to face?" "Will it feel normal?"
Upon descending in Southern California, all my jitters dissipated when I immersed myself amidst the crowd of 57,000 attendees, each one of us grateful to be back at the Super Bowl of the industry. For those who were not able to make the trip, here are some things that stood out during my time at Expo West.
Convention Life Has Returned
At the end of the first day in the North Hall / Hot Products Pavilion, a completely spontaneous reaction took place that was a perfect summation of the collective sentiment. At 6 pm, an announcement was made that the show floor was now closed for the day. At the end of that announcement, a cheer erupted from the crowd and not because the day was over. But rather because they were happy to be back at an in-person event. They were happy to be there; reconnecting with people that they knew, and to do what they did best – pitch their products and passions to the masses. If you have been hesitant to plan travel in 2022 because of the unknown, I recommend that you revisit your calendars and start booking your travel schedules. Trade shows and conventions have returned and judging from the excitement on the floor, they aren't going away again any time soon (barring any drastic changes).
Plant-Based Proteins
The movement towards more plant-based options is nothing new. What was amazing to me was the sheer number of new products that were positioned as plant "forward". In the Hot Products Pavilion, it seemed as if every other booth was a new style of plant-based protein. I sampled plant-based meats, plant-based chicken, and even plant-based seafood. In fact, my favorite was the plant-based tuna with a close second being my plant-based bacon, tomato, and lettuce cup. At past Expos, gluten-free and keto product lines got all the attention. This year, however, the spotlight was on all things plant-based.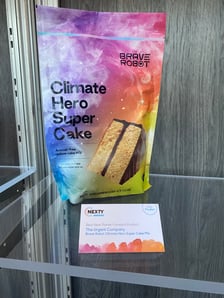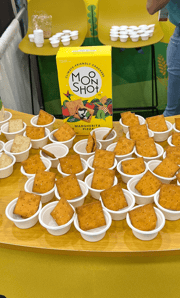 The Hot New ingredient…Mushrooms!
Taking it a step further, there were a multitude of exhibitors touting the use of mushrooms as their mainproduct ingredient. From superfoods to herbal supplements, mushrooms were displayed in abundance as a healthy, regenerative option.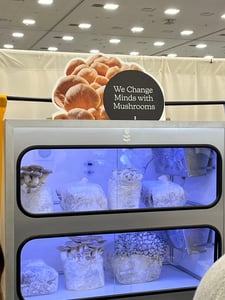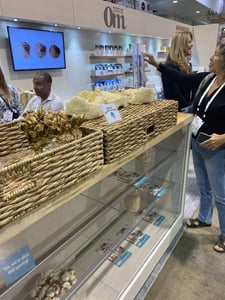 Environmentally-conscious Products and Processes
Speaking of regenerative, many products touted environmental impact as central to their positioning. Companies large and small spoke of taking urgent action and advancing regenerative agriculture on all types of farms. Some companies had taken noticeable steps to reduce their product footprint, moving all their global operations and processes inside of a 100-mile radius and utilizing zero-waste-to-landfill facilities to provide their ingredients. Others talked about their initiatives to have 100% recyclable packaging on all their products by 2025.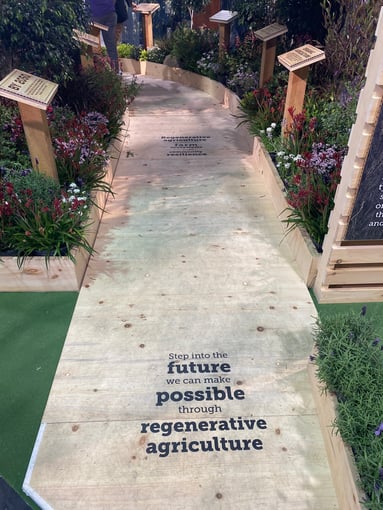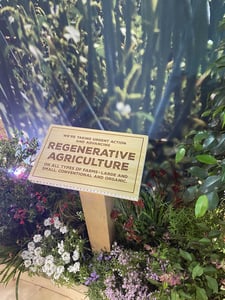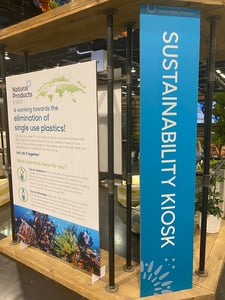 One of the more interesting things that I learned about was upcycling and the push to have more companies reduce food waste through the introduction of a certification program, with a goal to guide the food system towards increased economic and environmental sustainability. I am interested to watch in the years to come if upcycling becomes the next big thing for products here at Expo West and beyond.
All the more reason to return to Anaheim in 2023! In the meantime, our team at Eat Well Global will continue to monitor all these exciting trends and we cannot wait to see some familiar faces at upcoming conferences this year.
To learn more about what we saw at Expo West and for more information about how your company can use our insights capability to better understand the impact these emerging trends may have on food and nutrition, please set some time up with us here
About the Author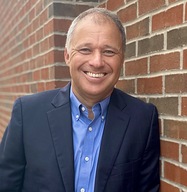 Chris Rich
Chris Rich has been a Vice President at Eat Well Global since August 2021 and has worked in some capacity within the F&B industry for the past eight years. Prior to Eat Well Global, Chris had been in the gluten-free certification and outreach space, working on the development of mutually beneficial relationships between manufacturers and consumers. When not empowering global change agents in food & nutrition, Chris enjoys his time with his wife and two kids in beautiful Dublin, Ohio.